Halloween is just a few short weeks away, but the scary season has been with us for months.  Banks are failing, companies are finding credit hard to come by, contracts are tightening up or in some cases disappearing altogether, the stock market has recently had "historic" days (in a bad way) . . .  and our supply of wooden stakes and garlic is getting pretty low. But all things are cyclical.  Today's challenges are also opportunities for a better future.  Don't dig yourself into the grave out of fear.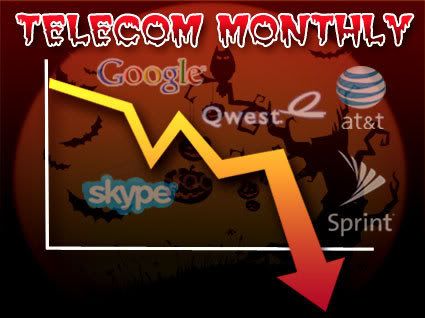 AT&T is using this time to reorganize its business units, as is Sprint.  As always, tough times help us identify our weak spots. When profits are rolling in, who spends much time economizing?  We can all benefit from a downturn by examining products, positioning, expenses, structures, and strategies. Take AT&T's lead and map a course for success in the coming months and years.  Don't just look at the products and services that are selling well for you today. What should you be selling tomorrow?  Downturns create movement, change of positions, new relationships, and new playing fields. What are you doing to stave off the zombies?  How are you preparing yourself for the coming market shift?
The telecom industry does not lack focus: we are facing the biggest evolution in our history – the switch from TDM to IP.  Customers are rapidly adopting new technologies and need new services from their carriers.  Traditional land line carriers are facing challenges in how their customers are using the networks, and the cellular carriers are struggling with a fundamental change in their business models.  In the end, they all know that their future is no longer in delivering calls but rather in serving up internet bandwidth (via wire, cable, or wireless) that will support voice, video, content, and applications in a quantity and speed that we could never have dreamed of a few years ago.
As developers, resellers, and content providers build new applications for consumers, they are calling on the carriers to open their networks, lower their prices, and allow for a more competitive environment – one which will permit speedy adoption of new services by consumers and which will ultimately drive more raw bandwidth to the carriers.
Eventually the spooks of Halloween and the crypts of economic demise will give way to reconstruction and prosperity. As an economy we might even learn from our mistakes. But even if takes a few years, those companies who base their business strategy on continuing to delivering the best technology in the most cost effective way have the best shot at coming out ahead.
Here are the stories you shouldn't have missed from the last few weeks:
Happy Hallowishes – May your profit bowl be filled with treats and your stock portfolio free of tricks,
-iTodd
TAGS: ATT, Cellular, Google, Mobile, Nextel, Qwest, Sprint, Telecom, Wireless