December 11, 2008 6:36 pm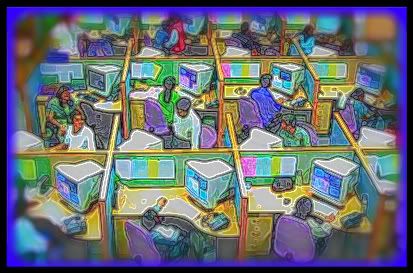 No doubt about it, when auto industry executives hop aboard their private jets to beg for congressional handouts, times must be tough. The sad thing is that for most of us, there won't be a bailout check to keep us floating. It is up to the rest of us to react to market conditions as we see fit and hope that we have done enough to save the family business.
For thousands of companies, boosting the bottom line has resulted in layoffs of employees and closing offices.  More often than not, those workers are inCustomer Service.  It is true that big money can be saved by shutting down a contact center, but it comes at the risk of driving away your customers and reducing your sales.  Tough decisions need to be made.
There are many notable examples of companies who have ruined their reputations by making it too difficult to reach a customer service agent.  In the chaos of the current economy, good customer service is a positive differential that keeps you ahead of the competition. Fortunately, there is something that can be done to lower costs and still maintain service levels.  The option that I'm going to float to you today is to send your employees HOME to work!  This has been an option for quite some time (often referred to as Homesourcing, Virtual Call Centers, or Remote Agents), but fear of change and loss of control have dampened the practice.  However, that is beginning to change as companies attempt to cut costs by ever more creative means.
New Voice Over IP (VoIP) options make it easy and less expensive to route calls and work to remote employees than old public telephone options.  In fact, some VoIP and SIP providers make the portion of calls that you place between your office and your remote agents free, further reducing the cost of virtual employees. Terminating calls to customers with Voice over IP systems (VoIP) is almost always cheaper than old school PSTN (Public Switched Telephone Network) options.  
Remote call center options abound.  You can host the system yourself and provide each agent with a VoIPphone (or even just a headset if you opt for "soft phones" which are dialed via computer), or you could opt for a fully "hosted" solution where your VoIP provider remotely hosts and manages the phone system for you.  Hosted systems may cost you more each month per agent, but they can significantly lower your IT expenses by making it unnecessary for you to maintain your own IT/Phone support staff.  Which solution is right for you depends mostly on how many remote employees you need to support.
For a small company looking to lower IT and customer service costs, outsourcing your phone system to a carrier or VoIP provider might make sense.  You simply send your agents home to work and pay a monthly fee to the phone company per agent (bundled, fixed cost, and per minute plans are all available).  But most larger companies will want to achieve the greater savings and flexibility of hosting and managing their own phone systems.  Usually, VoIP systems are much easier to set up and maintain than the hefty call centerACDs and Dialers of the past, so they won't require the same resources and staff that your company may beaccustomed to.
So, why don't more companies homesource their customer service agents and other employees?  There is a sense that having employees out of eyesight increases the difficulty of managing them and controlling the work.  And there is truth to that concern, especially if you insist on maintaining your current management structure and practices.  But there are many ways around this problem.  Nearly all VoIP phone systems make it easy for you to monitor phone calls, record calls, track work completed, etc.  If you peg the status of your remote employees to work completed and productivity, having them at home becomes less of a problem.
There is an opportunity to cut your costs even more and solve the issue of remote employee productivity at the same time: Make your employees contractors.  Converting your virtual staff to contract status allows you to pay them for the work they complete rather than the hours they work.  If you do this in conjunction with flexible scheduling for homesourced agents and enhanced online and webinar based training, you'll find that many employees will jump at the chance to work at home, even if it means that they would lose health care and other benefits.  There is a whole world of potential employees when you don't need them all to sit in your office.
Home based staff have fewer sick days, are available for non-standard hours, and are more frequently logged in and available (when they are getting paid for the calls they actually complete rather than simply the time you expect them to put in).
Your fist step is to find out if your current system is capable of handling remote employees. If not, you'll need to research and select a system which matches the features and services you require. If you aren't experienced in picking out a phone system, take care to gather as many quotes as possible.  You will find that prices vary widely. It isn't uncommon for a company to be quoted well over $100,000 for a new phone system. However, at the other end of the scale are open source solutions such as FreeSwitch and Asterisk which cost only a few thousand (or even a few hundred) dollars for a system which may equal the features of the more expensive players like Avaya and Nortel.  Spending a little extra time on your search may be worth the huge potential savings.
The key is simply to list out the features that you currently use, the features that you'd like to have, and then compare the systems. Ask for a test drive. Have your managers and a group of agents try out the new system. You'll probably find that you can actually increase the available features while decreasing the cost of your phone system. If you don't find something off the shelf that meets your needs, hire a developer (theFreeSwitch or Asterisk community have forums where you can find available resources) and have them configure a system for your exact needs.
There is much that we haven't discussed that you'll also plan for when setting your company up to maintain remote agents and employees:
Disaster Recovery (what happens when your phone switch and other systems lose power in an emergency)
Data Security (Protect the calls and data sent between your office and remote workers)
911 capabilities (Does your VoIP/SIP provider support emergency calling?)
Call Monitoring (Give yourself the ability to listen to your remote agents and possibly record their calls)
Agent Management and reporting (Don't forget to get a robust reporting package so you can track the performance of each employee)
Customer Relationship Management – CRM - (Make sure that your customer systems are webaccessible and well structured to give your remote agents quick access to your customer details and that those systems help ensure quality)
Scalability (Don't forget to make sure that the system can grow with your company – 25 concurrent sessions may be enough today, but what if you need 200 tomorrow?)
And there are, no doubt, many other important things to consider
Make your list of your priorities in advance and start working through them to see if Homesourcing the Call Center is a viable solution for your organization.
A reputable telecom company or equipment vendor should be able to help you match up your requirements and your budget with the right system. If you plan it out carefully, you can save much of the cost of shutting down your call center without losing the valuable investment you have already made in your employees, customers, and your reputation.  In the long run, you can potentially save more by outsourceing to yourself than by sending your work to India or getting rid of Customer Service all together.
Before overreacting to the current economic climate, consider sending your problems home.
-iTodd
iTodd is a telecom professional with a history in outsourcing and international call centers.  He has established contact centers around the world and is currently experimenting with setting up alternative call centers within the United States as was outlined above in the homesourcing story.  He is also working on developing alternative centers which employ the use of atypical personnel (homemakers, prisoners, students, the disabled, those living in rural areas, etc).
TAGS: ACD, Home Agent, Homesourcing, Open Source, Outsourcing, PBX, Phone System, Remote Agent, Remote Call Center